Was this our 25th AGM? Possibly, in any event, in October it will be our 25th anniversary, and needless to say, we'll stage something special to celebrate. In the meantime, the club is still going strong, as was demonstrated at this year's AGM, with over 30 participating in 4 competitions, the annual curry and, last but not least, the annual auction.
The AGM was, as usual, short and sweet, last year's committee being unanimously voted in for another years' term of office. Those with nothing better to do can read the minutes here.
We welcomed two ex-members back in to the fold: Bill Gallagher (back from Thailand/Singapore) and Glenn Haley (back from wargaming retirement), together with one new recruit: John Mallaris (aka Taki), . . . who then proceeded to win the board competition!
We also had one visiting member - John Foster - who was passing through HK and couldn't resist seeing if any one was left from the days when he was a member back in the 1980's - the answer was four: the current committee!
Photo highlights appear below.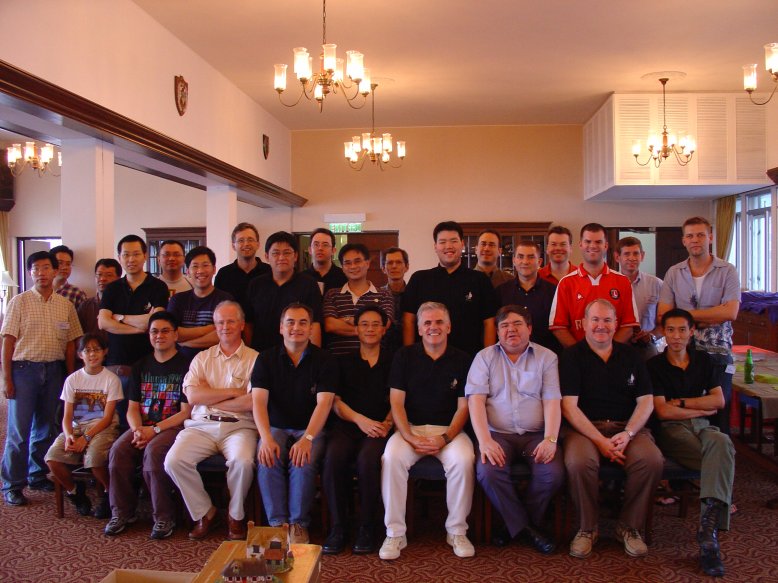 The annual team photo - note the return of the Charlton Athletics' shirt!
for a retrospective of past team photos, click here
| | | |
| --- | --- | --- |
| | | |
| DBR Competition | Board Competition | Micro-tank Competition |
| | | |
| Jeff takes the DBR prize | Taki gets the board game | James gets his tank |
| | | |
| | and paints for the star painter | |