This year's AGM was a well attended and successful event. The annual team photo: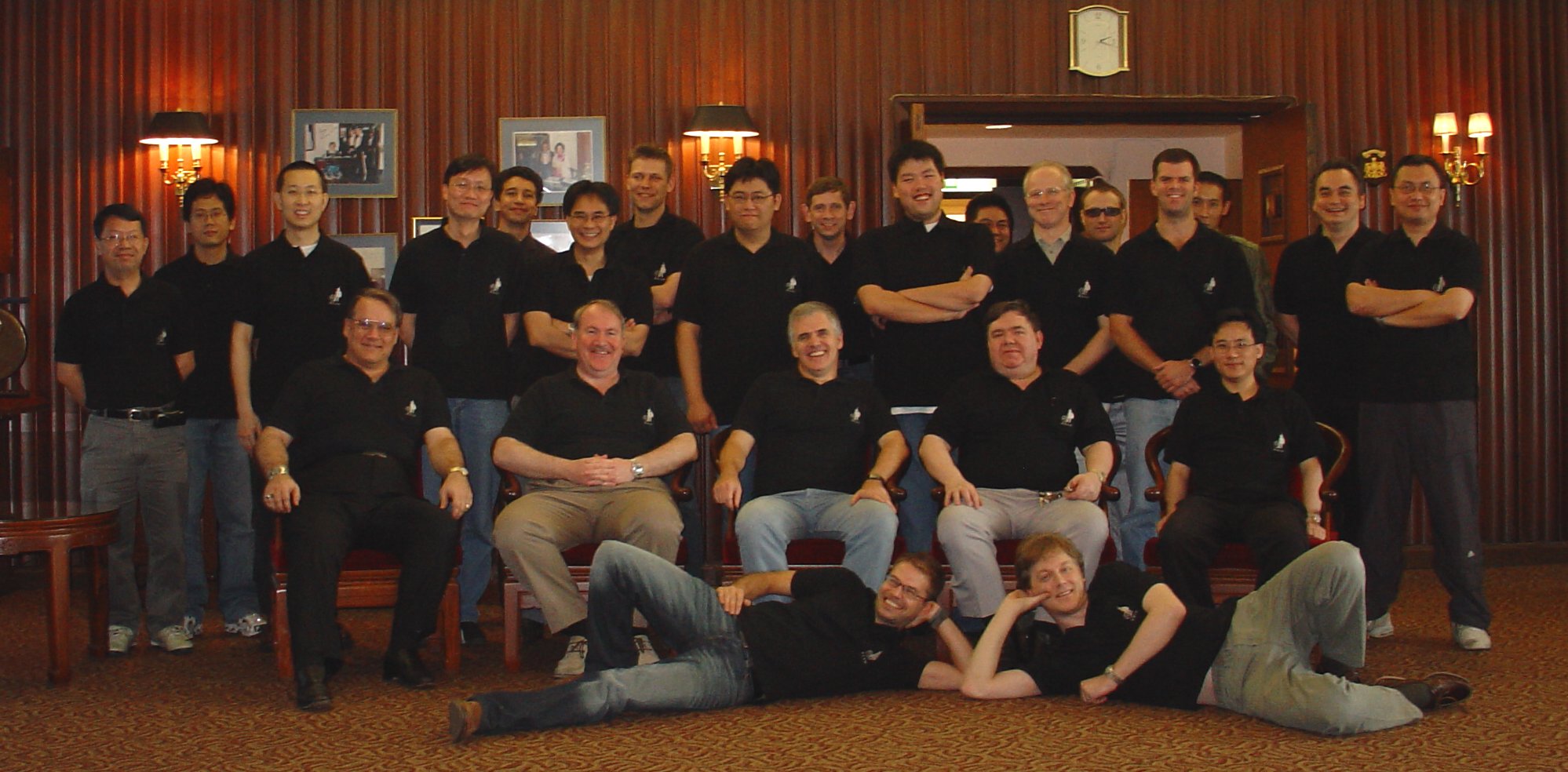 The annual curry buffet: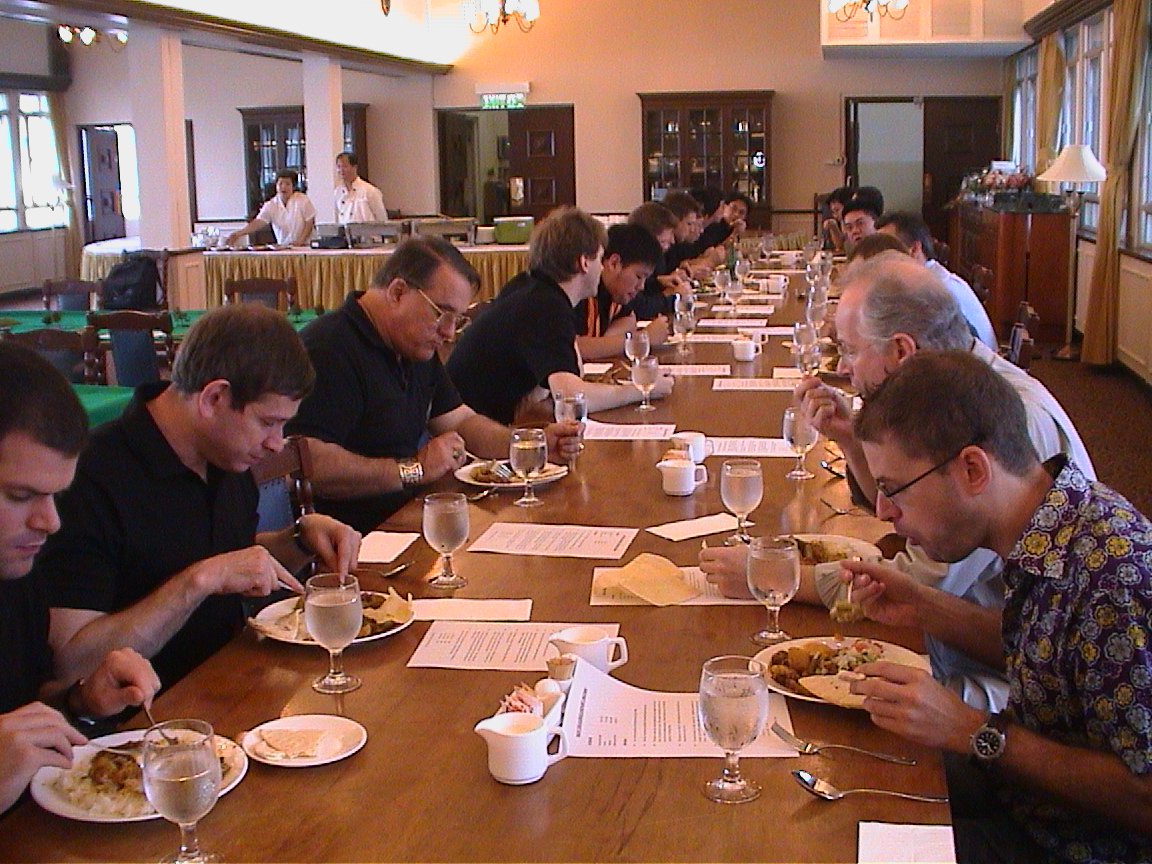 The minutes of the AGM.
The competitions:
WWII Microtank
Report from the winner's perspective:
1st Battle
The 1st battle was set in the Korean War and I was commanding 8 T-34 85s against Philip Ngoís 4 T-26s and 4 M4A3E8s. Ngo separated his tanks into 2 groups, T-26s coming from his right and Easy 8s coming from his left. I deployed my tanks into 3 groups, 3 moving into the forest in the middle of the battlefield, 3 going right and 2 moving from my left. After 3 turns, Ngoís Easy 8s were in firing range of my middle and right flank; hence I concentrated my 6 T-34sí firing power against those 4 Easy 8s. My 2 T-34s on the left had bad luck and couldnít move in the first 3 turns, so they received fire from 4 T-26s and were knocked out after 4 turns. However, I killed all his 4 Easy 8s and so won my 1st battle.
2nd Battle
In the 2nd battle I used 3 King Tigers and 4 StuGIIIs separated into 2 groups to against James Cheungís 8 T-34 85s. My StuGs tried to move into the forest but were not successful and got stuck at the edge. All of Jamesís tanks were coming from my right and tried to take the rear of my position. When the first 4 T-34s deployed in the rear of my StuGs, it was my turn to move. I placed 2 StuGs to make contact with both of his flanks. Hence I killed those 4 T-34s in the coming 2 turns with only one StuG lost. The King Tigers joined the last salvo to destroy the remaining T-34s.
Final Battle
Philip used 3 Panthers and 5 PzIVHs against my 8 T-34 85s. I separated my tanks into 3 groups, 4 on the left trying to flank him; 2 in the middle forest and 2 on the right. He sent only 2 PzIVs to my right which were killed by 4 T-34s. Then he held all his remaining tanks on the edge of the forest in front of him. My 4 T-34s on the left were trying to hurt his PzIVs at very long range, because I had the advantage at that range, but with little success. On the contrary, 2 of my tanks were knocked out by his concentrated power of Panthers and PzIVs. At the same time, my other 4 tanks moved to his flank where his PzIVs were exposed. I fired in the flank of these PzIVs and so gained the field.
The final results:
| | |
| --- | --- |
| 1st round: | Cheung Kar Fai beat Philip Ngo |
| | Philip beat Tom Tong |
| 2nd round: | Cheung Kar Fai beat James Cheung |
| Final: | Cheung Kar Fai beat Philip Ngo |
Congratulations to Cheung Kar Fai.
DBMM 100 Knockout
In all there were 10 players in the DBMM knockout competition using the below listed armies, which also shows the first round pairings which resulted from a random draw.
Peter Munn
Early Hungarian
Nick Rogers
Lydian
Tony Mathews
Patrician Roman
Herbert Wong
Sung Chinese
Lawrence Ho
Normans
Andrzej Cierpicki
Qarakhanids
Neil Burnett
Later Carthaginians
Eric Hall

Assyrian Later Sargonid
Jeff Herbert

Scythians
Peter Hunt

Sub Roman British
The Early Hungarians fell to the Lydians after a hard struggle but Peter and Nick were well matched. The Sung Chinese triumphed over the Patrician Romans with the more experienced Herbert Wong gaining the victory. The Normans beat the Qarakhanids although Andrzej who is quite new to the game did not have a lucky draw against the very experienced Lawrence Ho. Neil Burnett with his newly acquired Later Carthaginians beat Eric Hall with his Later Sargonids again a closely matched pair and a touch fight ensued. Finally Jeff Herbertís Scythians beat Peter Huntís Arthurians. Again a closely matched pair but Arthur proved less than brilliant and perished quite early from bow fire.
The second round saw:
| | |
| --- | --- |
| Herbert Wong | Sung Chinese |
| Nick Rogers | Lydian |
| | |
| Lawrence Ho | Normans |
| Jeff Herbert | Scythians |
| | |
| Neil Burnett | Bye |
The Sung Chinese again triumphed, this time over the Lydians during a hard fought game. Nick doesnít appear very often but he put on a good showing during the games.
Lawrence Ho played a very good game against Jeff Herbert who despite some Ďcleverí manoeuvres got himself caught hotfooted by the Norman knights. Everything was going Lawrenceís way but Jeff dragged defeat from the jaws of victory by killing the Norman general. Lawrence unfortunately threw a 1 on the next bound.
Three players left and the draw saw Neil with another bye. Jeff and his Scythians faced up to Herbert and his Sung Chinese. At first things went Jeffís way, but any hope of victory soon slipped away as Herbert showed his mettle. Both Generals met a gory end but it was Herbert who prevailed.
Herbert then met Neil in the final. The game was played over a river crossing and around a village held by the Carthaginians. The game ebbed and flowed with the Sung Chinese falling back beyond the river. Neil who has quite a record for throwing ones surpassed himself with some excellent luck and eventually prevailed against the more seasoned Herbert. Well done Neil who was justifiably heartened by his victory, Neil has only been playing DBM for just over a year or so. Neil was also the only player to best Herbertís flaming oxen, which was probably the element of the competition. DBMM 100 provides for an excellent base for a competition.
Warmaster
This yearís Warmaster competition was a knock-out contest to let players have time to play in other competitions as well. 6 players joined in and each used 1,000 point armies as listed at below. After the random draw the first round results were:

Alex Lam (Orcs & Goblins) vs. Philip Ngo (Chaos)
Christopher Chu (Empire) vs. James Cheung (Undead)
Tom Tong (Lizardmen) & Lawrence Ho (Vampire) had byes in the first round.

Christopher Chuís first battle was against James Cheung; due to their long time rivalry their knowledge of the other side's tactics was extraordinary. When the battle begin, James started first and he planned to smash Chu ís cannons with his Skull Chukka, itís a pity that they all missed (he needed 4+ to destroy the cannon but rolled 1, 2 & 3). Chu ís Empire seized the chance to attack and occupy the most favourable position in the battlefield.

In turn 2, the Undead armies, much to Chu ís surprise, were keen for battle, and their chariots rushed off to engage the enemy on the right flank, but the Pistoliers gave them a great blow while shooting, destroying two Undead Chariots, and succeeding in preventing this attack. After much pushing and shoving, the Empire Knights destroyed three Undead chariot squadrons.
At the same time, on the left, the valiant Flagellants from Empire, having withstood so much, were finally destroyed at the threat of being entirely surrounded by Undead. However, Chu had been very lucky to have one stand of Knights remaining after the Undead advance, and that allowed him to avoid losing enough units to break his Army.
James got a unit of cannon & crossbowmen later, he also decided to use his carrion caught the leak out unit but was unsuccessful.

At the start of turn 4, Chu decided to make a counter attack with Chaos Knights on his right. They assaulted the Undead infantry around the hill. In response, James tried to use the terrain advantage and plenty of support to repulse the fierce attack. Empire just destroyed a unit of archers. However, while both armies had suffered many losses, no one held the upper hand and both were close to break point.

It was a most interesting battle and it was very close; at gameís end, Christopher won the battle with about 70 points.

In the other battle, Alex won and was promoted to the Quarter-finals, the schedule of Quarter- finals was as follows:

Alex Lam (Orcs & Goblins) vs. Lawrence Ho (Vampire)
Christopher Chu (Empire) vs. Tom Tong (Lizardmen)

Lawrence Hoís Vampires eliminated Alexís Orcs from advancing to the finals, and Chuís Empire also advanced to the finals because the Lizardmen general Tom Tong abandoned the table following Chuís shooting on turn 3.

The finals were held in an area close to the plain (just woodland in one corner); Lawrence had 4 units of Black Knights that seemed to have every advantage. Christopher deployed in a defensive position, concentrating his army on the baseline, hoping to draw back in order to give play to the strong shooting of his Empire troops at the distant enemy.

Lawrence moved his army forward carefully. By turn 3, Chu found the situation far from his expectation, because his artillery fire had failed to offer much injury to the Vampire army, so he mobilized and assaulted with two units of Pistoliers on the flank. It was a pity that the result was not significant, only two units of zombies were destroyed. In response, Lawrence ís Black Knights joined with his general to eliminate Chu ís Pistoliers.

However Lawrence ís general pursued and attacked the enemy and so came very close to Empire. Chu finding this a good opportunity to seize victory, immediately sent a unit of Knights in pursuit and succeed in killing Lawrence ís general. Lawrence lost by general slain while it was Chu who carried off this yearís Warmaster championship.
A round up of the results:
| | |
| --- | --- |
| 1st round: | Alex Lam (Orcs & Goblins) beat Philip Ngo (Chaos) |
| | Christopher Chu (Empire) beat James Cheung (High Elves) |
| 2nd round: | Lawrence Ho (Vampire Count) beat Alex Lam (Orcs & Goblins) |
| | Christopher Chu (Empire) beat Tom Tong (Lizardmen) |
| Final: | Christopher Chu (Empire) beat Lawrence Ho (Vampire Count) |
Congratulations to Christopher Chu
Battle Cry
Following on from the success of last year's Battle Cry round-robin, 11 players met across the field of battle in a total of 19 engagements. Some hard fought battles, many going down to the last die roll. Frank got off to a good start early on with 3 consecutive wins but was overtaken by Eric following their tense face off. Eric's final total was 5 wins in a row with no losses. Frank ended with 3 wins and Lawrence Hung, Peter Hunt, Chris Lam, and Tony Matthews shared third place with 2 wins each.
| | | |
| --- | --- | --- |
| | | |
| | | |
Best Painted Miniatures
Not many entrants this year, however all were to an extremely high standard. A difficult decision for the judge, with the prize for the best painted historical item going to Herbert Wong (winner of last year's prize) for his expertly painted 7 Years War Prussians and the fantasy prize going to Wayne Knowles for his fine conversion. Special mention must also be made of Herbert Wong's beautifully painted High Elves fantasy army.

Warhammer 40K
No competition was held at the AGM as the boys were all busy practising for the marathon Games Workshop gathering the following Easter weekend. So just a few photos of what was fielded on the day.
| | | |
| --- | --- | --- |
| | | |
Annual Auction
Lots of goodies were for sale: books, wargame magazines, vcd's, unpainted metal, painted armies and board games. These attracted healthy interest and some competitive bidding although not all items met their reserve prices.